Craniums, Carcasses, Castles
GRENOBLE, France — Single artist exhibits — or, as we used to say, one-man shows — are dangerous gambits unless you happen to be dead and very famous, as in the monumental Edward Hopper show at the Grand Palais in Paris. Edgy, not-so-old living artists like Philippe Cognée hardly fit the category. Born on France's Atlantic coast and raised in West Africa, Cognée may be well known to serious collectors in Paris, Zurich and New York, but he's hardly a household either to most Americans or even to most French. And that makes Grenoble's Fine Arts Museum all the more daring for having turned over half its space this fall to a hundred of Cognée's generally giant neo-expressionist canvases.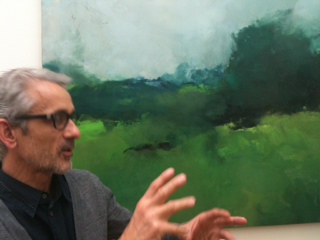 Stunningly nightmarish is an entire room packed with 36 seemingly identical paintings of carcasses from a slaughterhouse near Nantes, the former fishing town turned into France's most sizzling city of art (presided over for 22 years, incidentally, by current prime minister Jean-Marc Ayrault). The beef carcasses are among the most realistic of Cognèe's paintings even as they are also semi-surreal dream-memory works that seem to explode into your eyes.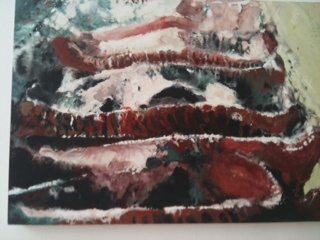 To make the series Cognée spent two months in an abattoir in west-central France, mid-way between Paris and Nantes. He wanted to experience the complete atmosphere of the butchery barn as the men and women who work there do and to express "the odor" of the ripped up flesh as well as the weight (1,500 pounds) of each carcass as it careened around on a suspended track of steel hooks. Then he went away for a while and came back and shot a roll of 35 mm film, making 36 images — the number of shots on the roll and the number of paintings in the room.
"I had to create an internal distance [to the place and the objects]. I had to rid myself of all emotion and to make it all neutral," he said recently while giving a tour of the show to a small group of journalists. "Then I took each image and used it make each painting."
Yet that's not where the work stops. Cognée has developed his own peculiar technique, mixing his oil pigments into heated bees wax that he applies to his surfaces — sometimes canvas, sometimes boards. The paint often, though not always, forms a thick impasto, but then he applies a thin, durable plastic film on the not yet dry surface and applies a hot iron to it. As it's begun to dry he gently pulls the film up and off, causing the paint to bleed and in places to detach from the ground. Sometimes the technique renders a translucent quality to the images, as in an image of an old claw-footed bath tub that seems to draw us tumbling into a vast void swirling around the drain.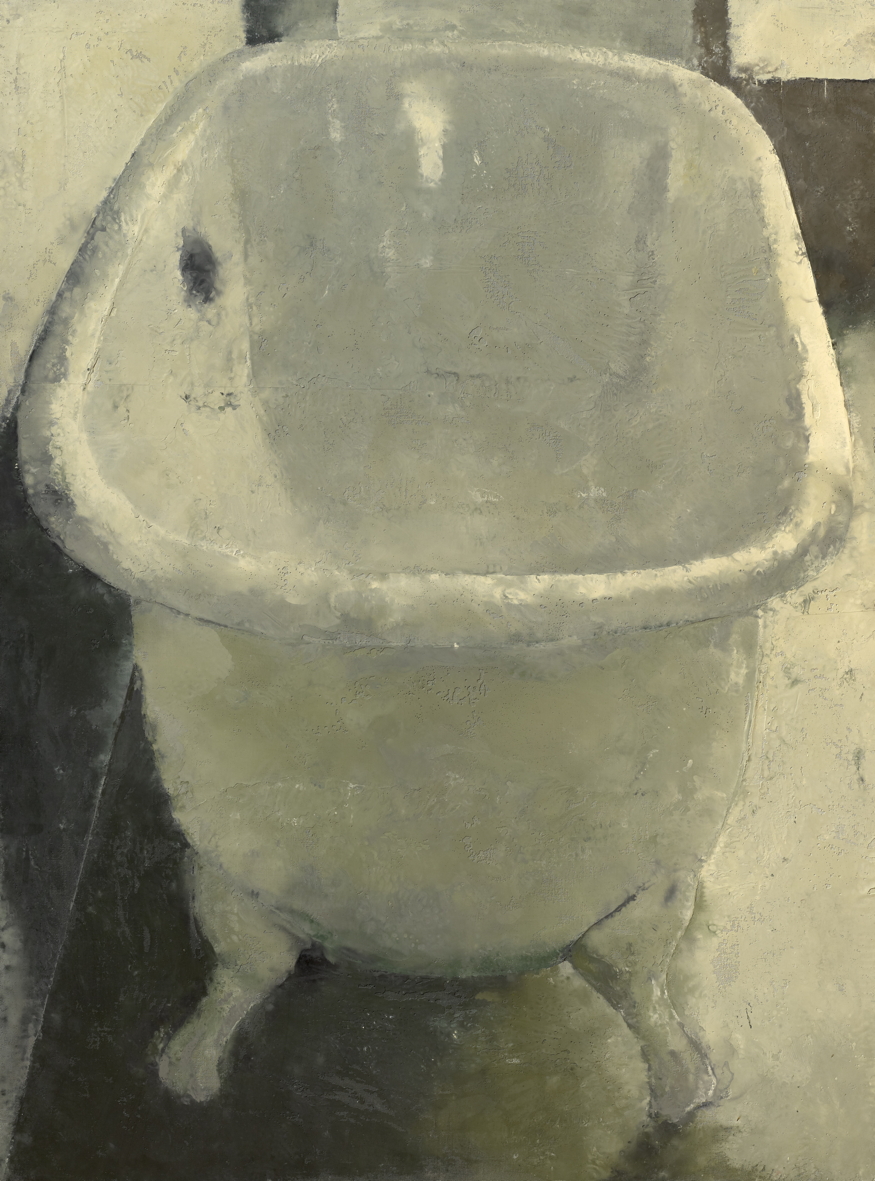 Sometimes the effect is raw, edging toward violence. Nearly always, the paintings give off a shiny brilliance except where the
impasto
has been detached.
Cameras are critical to Cognée's work.
"Very often I come home and look at the images I've made on film and I see a piece of the image that's the most interesting that I hadn't seen when I was there" he said. "So I have to go back because it's not only the image but the wind and the colors [I want to capture]."
"Do you ever paint directly from a site or an object?" one of the group asked.
"No, I don't. What I want to do is work with my memories of what I've seen and sensed."
Guy Tosatto, the Grenoble's museum's director, personally mounted the Cognée's exposition. He place's Cognée in the neo-expressionist tradition of Gerhardt Richter and of Sigmar Polke who were at the forefront of returning identifiable form to contemporary art. Cognée "situates himself in the realm of the banal, the multiple, the without quality," Tosatto writes in the hefty catalogue to the show.
That reality of the banal ranges widely — from the beef carcasses to a luminous "portrait" of New York's Twin Tours painted not long before the 9/11 attacks demolished them . . .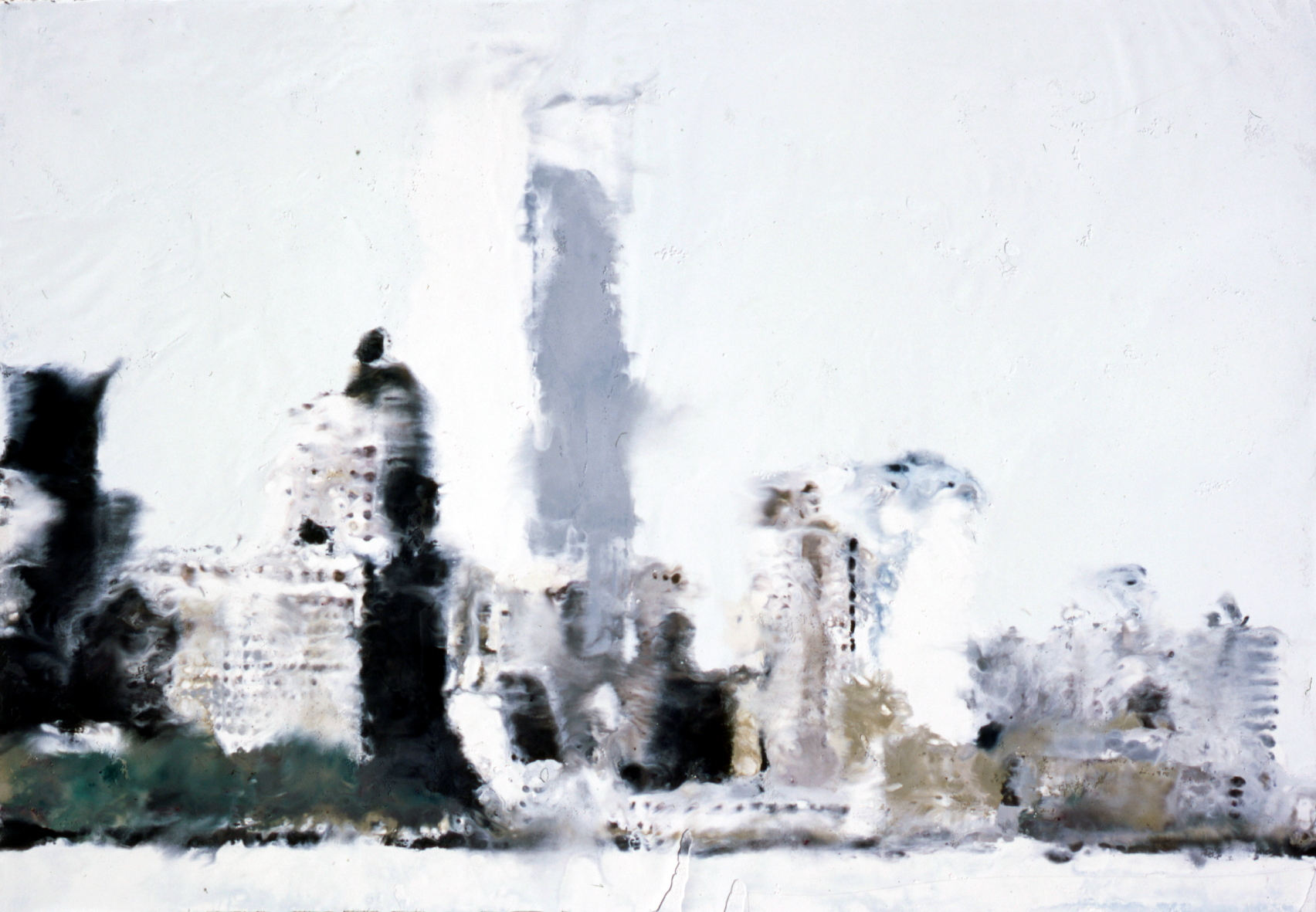 . . .to images of trees on the Indian savannah seen from the window of a speeding train . . .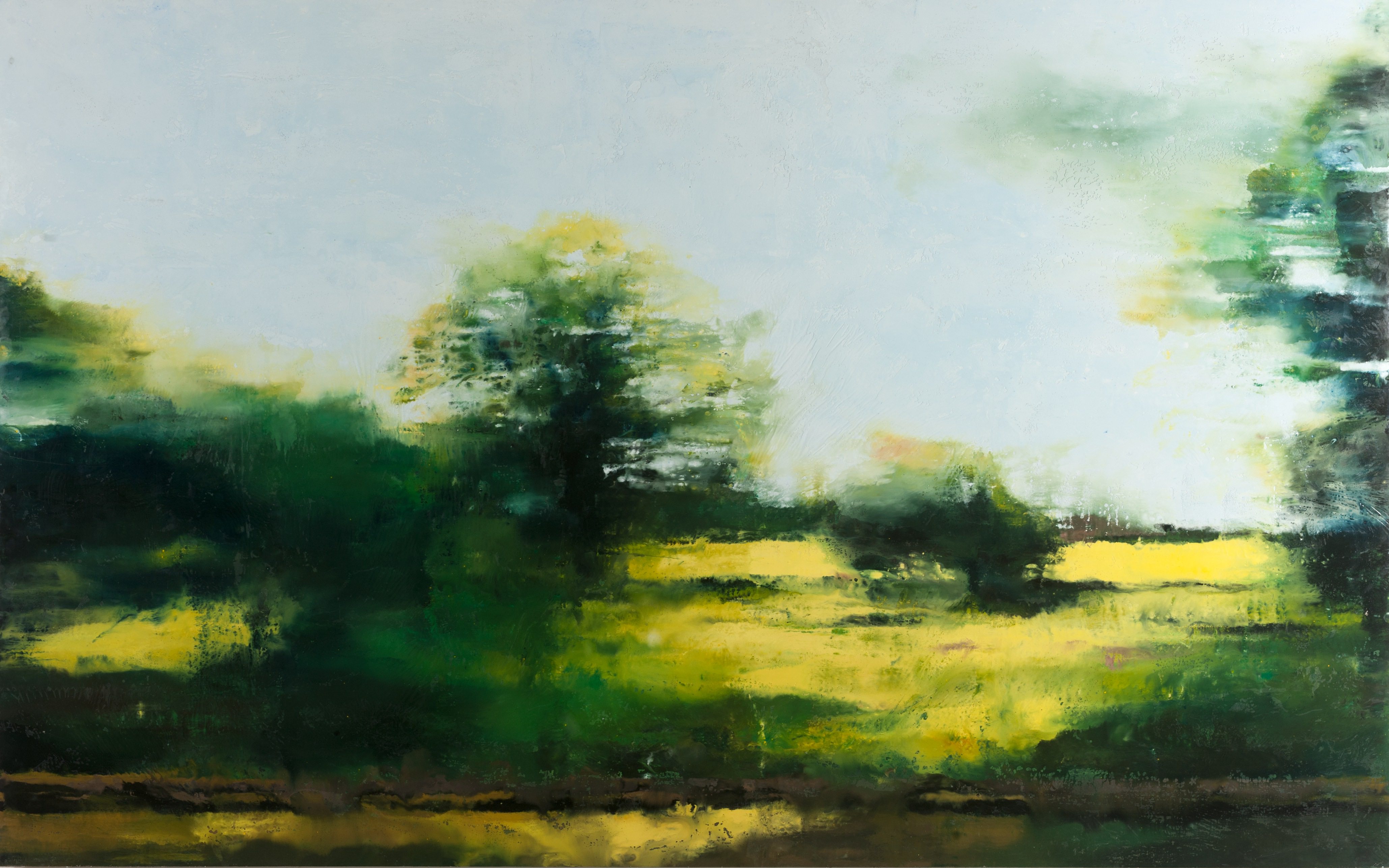 . . . to a pair of skulls — one green, one white intimate in their proximity . . .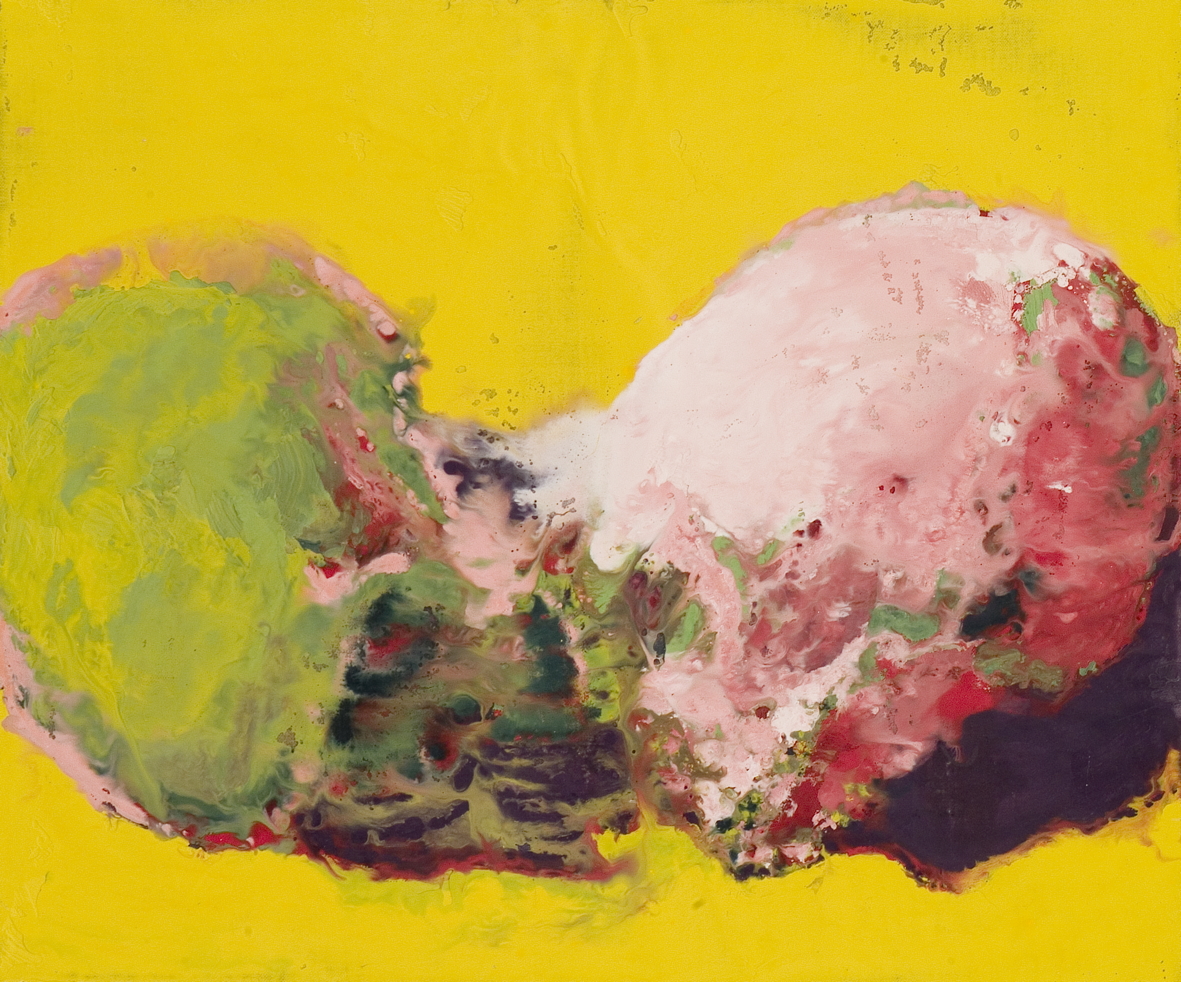 . . . to a wall filling garden of vanities scattered like beans on a yellow ground . . .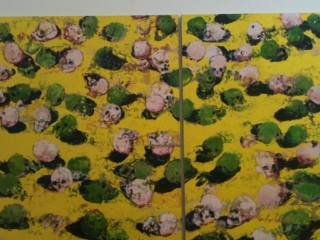 to a series of oddly revealing American cityscapes rendered from Google Earth satellite photographs. . .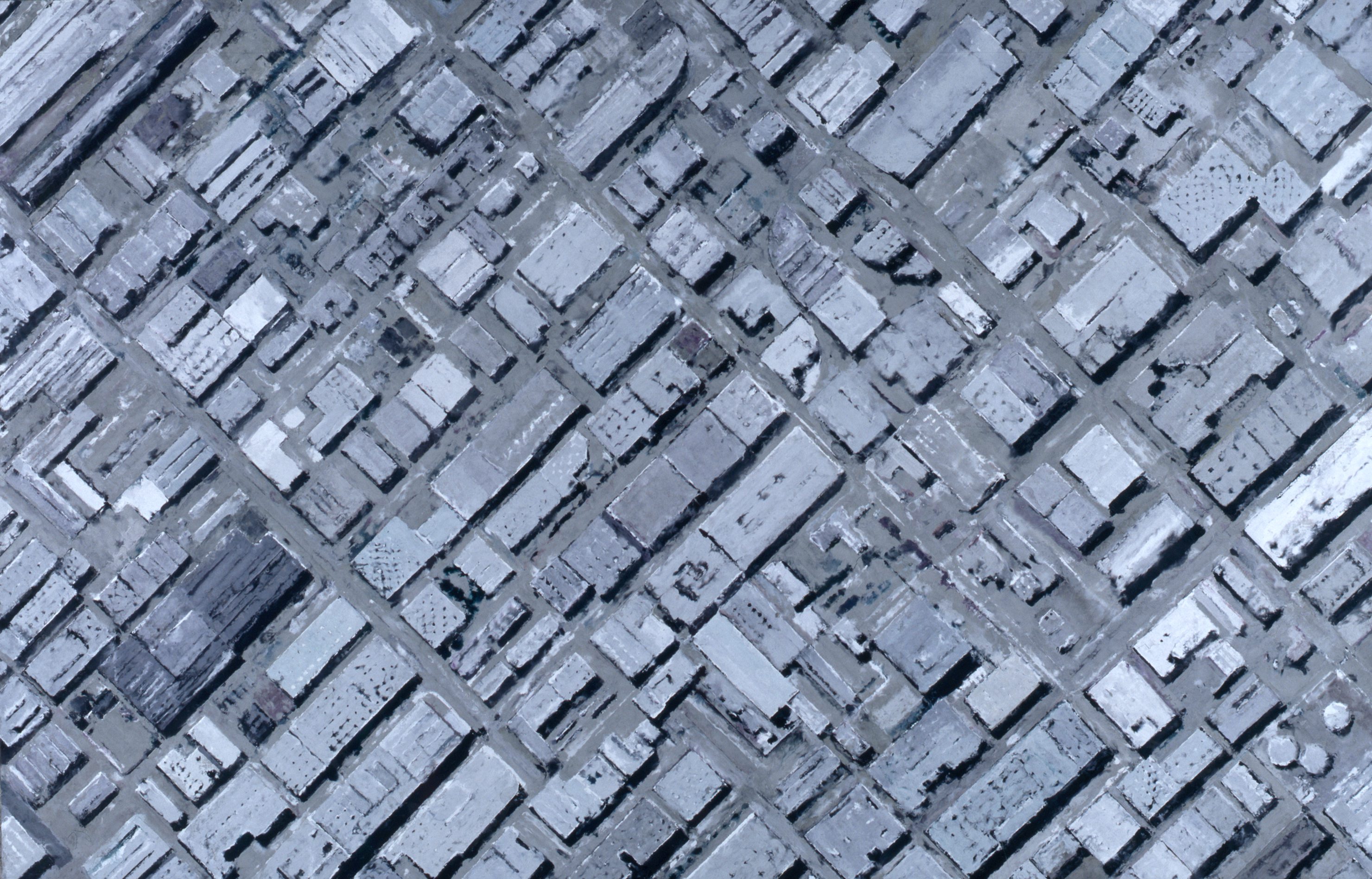 Seen all together, the technique and his selection of sites and images place us at once on top or surrounded by the sort of plainly ordinary sights we see and fail to notice too directly every day, not least because there is hardly a site anywhere left on earth that we have not seen even as we feel remote, dislocated and detached from it by its over-representation in popular media.